Navratri 9 Colors 2019 – Maharashtra | Gujarat
"Updated Navratri festival 9 colors for this year 2019 for Mumbai (and overall Maharashtra) and Gujarat states.

Citizens follows and wears dress, saree and other outfits according to the below listed colours for each day."
2019 Navratri Colors
Below Colours are followed by major cities of Maharashtra like Mumbai, Pune, Nashik, Nagpur, Aurangabad, Kolhapur and Jalgaon and also Gujarat state cities like Surat, Bharuch, Rajkot, Bhavnagar, Ahmedabad and Others
| Navratri Day | Date / Weekday | Color |
| --- | --- | --- |
| Day 1 | September 29, (Sunday) | Orange |
| Day 2 | September 30, (Monday) | White |
| Day 3 | October 01, (Tuesday) | Red |
| Day 4 | October 02, (Wednesday) | Royal Blue |
| Day 5 | October 03, (Thursday) | Yellow |
| Day 6 | October 04, (Friday) | Green |
| Day 7 | October 05, (Saturday) | Grey |
| Day 8 | October 06, (Sunday) | Purple |
| Day 9 | October 07, (Monday) | Peacock Green |
2019 Navratri Colors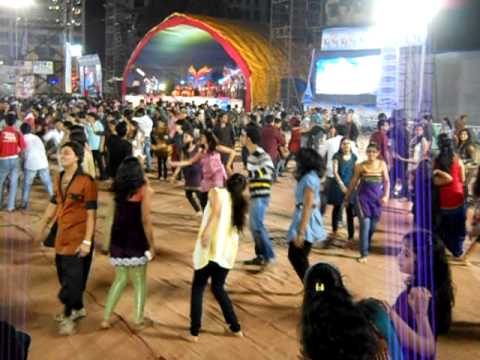 Festival of Dance in India, Navratri (9 Nights & 10 Days) brings in joy and happiness with religious significance praising Goddess Durga fighting evil for all these 10 days. Usually starts around September & October month every year. Main attractions being Garba & Dandiya dance and 9 days dressing colours to be followed.
Navratri Venues are famous Navrati garba dance locations in Mumbai.This year Festival starts from September 29th to October 7th, 2019.
According to Tithi, Below are Navratri 9 days Names in Sanskrit language :
1st Day is called Pratipada
2nd Day is called Dwitiya
3rd Day is called Tritiya
4th Day is called Chaturthi
5th Day is called Panchami
6th Day is called Sashti
7th Day is called Saptami
8th Day is called Ashtami
9th Day is called Navami
Celebrating 9 Colors at Work Place and Commuting
Psychology and Significance Of Navratri Colors
Yellow
Yellow colour represents energy, happiness and so is also known to be good on stimulating mental energy. Avoid dark yellow as as it gives a disturbing effect to eyes. And those of you who looking for some attention wearing a beautiful dress or saree should wear a bright (Not Dark) yellow colour during the day.
Green
Wearing green colour dress will give a feeling of Eco-Friendliness, Both with light and dark shades this year. Green in all its shades resembles soothing, harmony and fertility and so it is called the colour of nature. Women have lots of choice wearing green colour traditional dresses or just a beautiful top with denim jeans.
Grey
It is a cool and balanced colour and goes best with other colour shades in dresses. Wearing major portion of dress colour as Grey and less of other colour combination looks best, balance your accessories, shoes etc with this moody colour. You can also try shout out with some dark accessories or silver wearing with grey.
Orange
A tip, Orange goes great with black and a double colour top with a denim below will look awesome without any accessories. Every colour radiates some energy and is associated with some kind of emotions, Orange colour represents creativity and enthusiasm and is one best colour for attraction in crowd.
White
White signifies a colour of perfection, purity and peace. Wearing a white colour dress or a saree on Navratri will sure give a feel of peace and harmony with a joyful day as seeing white outfits in varieties all around in groups is a feel good. Energy level on this day will be soothing and high all around.
Red
A beautiful long red colour dress on a graceful persona catches many eyes. Red is a colour that signifies power, danger, brightness. It is also said that it affects human respiratory (Heart beats rates and blood pressure). So girls wearing red will pull up blood pressure and heart beats of many males in no time.
Royal Blue
Navratri with a Royal blue colour dress or saree as outfit can make you feel superior as said significantly about this colour. Mumbai will sure bring out best of denim outfits, casual wears among youths in college and some bright beautiful dresses be also seen on railway platforms, local trains and offices. Royal blue can be a bright or a dark shade too.
Pink
Pink colour is playful, sweet, romantic and looking cute. Its a colour signifying universal love, So let love fill in Mumbai city heart all around. For all you mothers out there with your cute and beautiful kids, It's a day to look the best with matching outfits with your babies.
Purple
Purple symbolizes luxury and power. This colour is associated with royalty too.